Kako Da Ne
Tropical Bass Explosion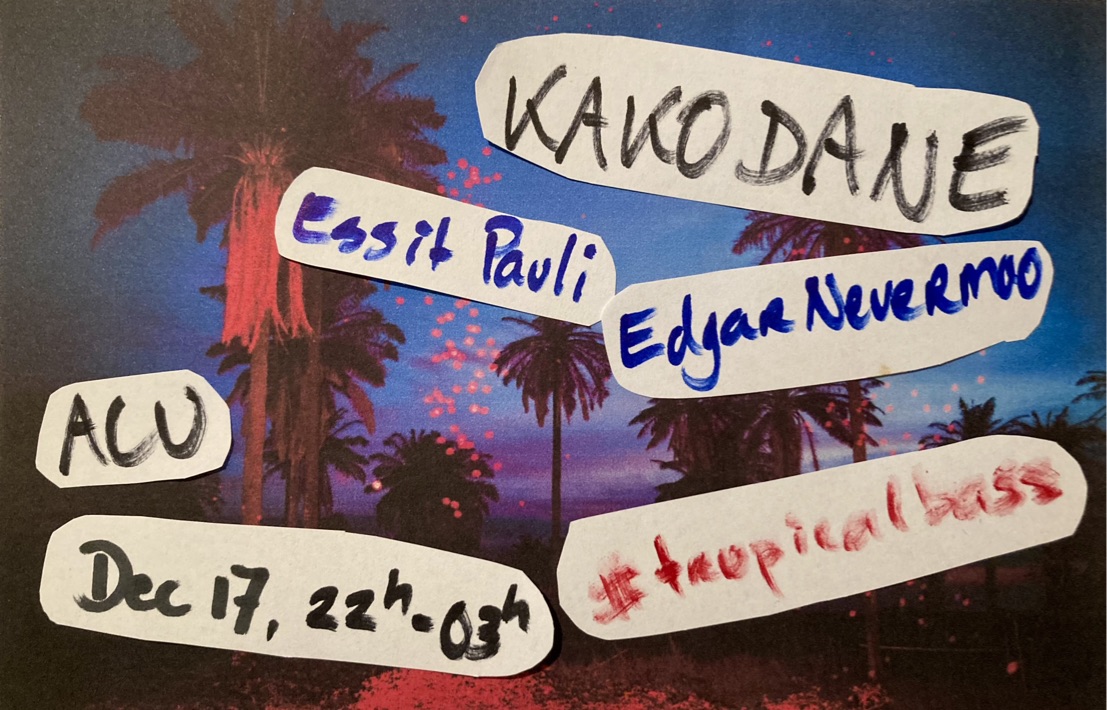 Come join the fun!
Yes, we know. It took long.
But here's yet another tropical bass dance night in ACU. @Kako Da Ne, your favourite frente fiestero internacional returns to bring you fresh stuff from all around: electropical, dub, nu cumbia, arabeats, reggae, balkan bass, folktronica, afro pearls. Whatever.
Even better.
They will be joined by:


Edgar Nevermoo. Our good friend is a -vinyl only- deejay specializing in cumbia, exotica and other tropical craziness. He is known to be an idiot. But he does get dance floors on fire, like recently at Le Guess Who?
Essit Pauli. A new phenomenon in town. These two dj's have been lightning up the dance at quite some venues, and make their debut in ACU tonight. Rumours have it they dance more behind the dj tables than you can do in front of it.
Come try!

Doors: 3 euro, cash please!
Kako Da Ne. Saving the world from bad music by playing the good!
Opening hours
Mon
Closed
Tue
20:00 – 00:00
Wed
19:00 – 23:00
Thu
Check agenda
Fri
20:00 – 03:00
Sat
20:00 – 03:00
Sun
18:00 – 23:00
ACU = CASH PLEASE
Hit the ATM in time, because we prefer cash payments.