Hólos (nl), Dyrghé (nl) & Curling (dj)
Presented by Black Earth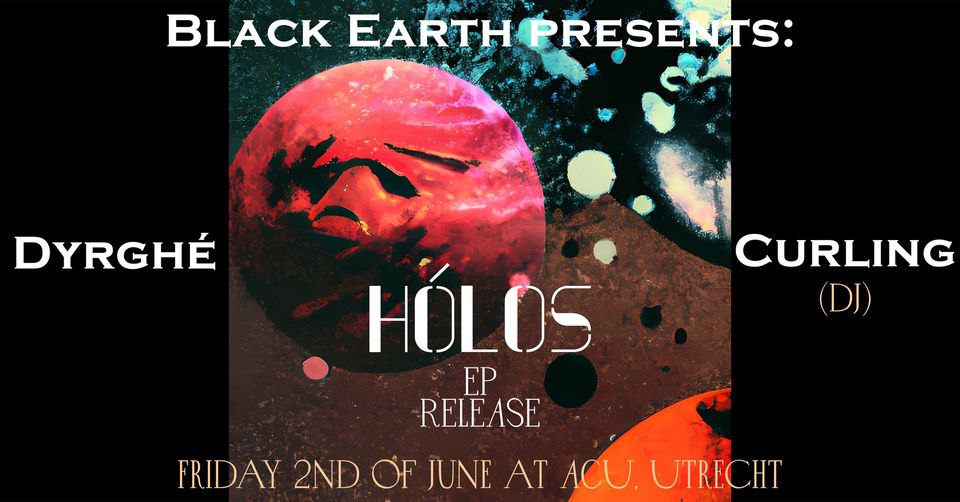 Halos
Fill the room with synth, chants, hypnotic rhythms & atmospheres.
Feel the room, warm, dark, hazy surreal.
Black Earth is stoked to bring you such bewitching line up and to celebrate the first EP release of our friends Hólos.
Hólos is a two-piece band based in Utrecht, The Netherlands, consisting of Rutger de Groot and Sarah Wienke. The duo recently released their debut EP 'Meronym'.
Hólos' music can be described as a blend of various genres, including alternative, art rock, dark experimental synth pop, indie electronic and dark wave. The music is characterized by haunting melodies, complex harmonies and a dream-like atmosphere. With their unique sound and creative approach to music making, the band has firmly established themselves as an exciting force to be reckoned with in the alternative music scene.
Sarah is the lead singer and plays bass synth during live performances, while Rutger plays the synth and provides backing vocals. Rutger is the mastermind behind the harmonies which provide the basis on which Sarah writes her melodies and introspective lyrics.
We eagerly anticipate what the future holds for this duo.
On stage they will be accompanied by Yoel Beaucaire on guitar & Dirge Seçil Kuran on percussion.
https://holosband.bandcamp.com/
Dyrghé

Dyrghé is an artist based in The Netherlands with a background as a classical and contemporary percussionist who is now writing and performing her original work as a singer and a multi-instrumentalist. Her music is a unique blend of genres ranging from trip-hop to industrial rock with her own flavour of uncanny rhythmical prowess and a heritage of fleeting melodies from her hometown Istanbul.
https://dyrghe.bandcamp.com
CURLING
– While Utrecht-based artist Curling often takes to the stage as a singer in various metal, punk, and noise rock bands (Throwing Bricks, Radar Men From The Moon), he takes a completely different approach in his DJ-sets. The experimental mix of bass, electro, industrial and a dash of EBM recalls the well-known club scene in the first Matrix-film: dark, with an apocalyptic tinge, but mostly highly danceable. Curling has played venues such as TivoliVredenburg, EKKO and Club Smederij and festivals like Le Guess Who? and Etmaal.
You might also know Curling from his monthly Flip The Tape show on Stranded FM. It showcases a sonically deeper side of his musical interests, with more room for experimental sounds.
https://soundcloud.com/curlingftt
https://www.instagram.com/nielswk/
Opening hours
Mon
Closed
Tue
20:00 – 00:00
Wed
19:00 – 23:00
Thu
Check agenda
Fri
20:00 – 03:00
Sat
20:00 – 03:00
Sun
18:00 – 23:00
ACU = CASH PLEASE
Hit the ATM in time, because we prefer cash payments.
Other similar events coming up
There's nothing here!

It appears that we don't have any similar events planned.

You can check out the Agenda page to see if there's something there

Sorry!
View full agenda