Rebetiko against the machine (GR) & Kibar Trio (GR,NL)
Originals and Greek folk/Rebetiko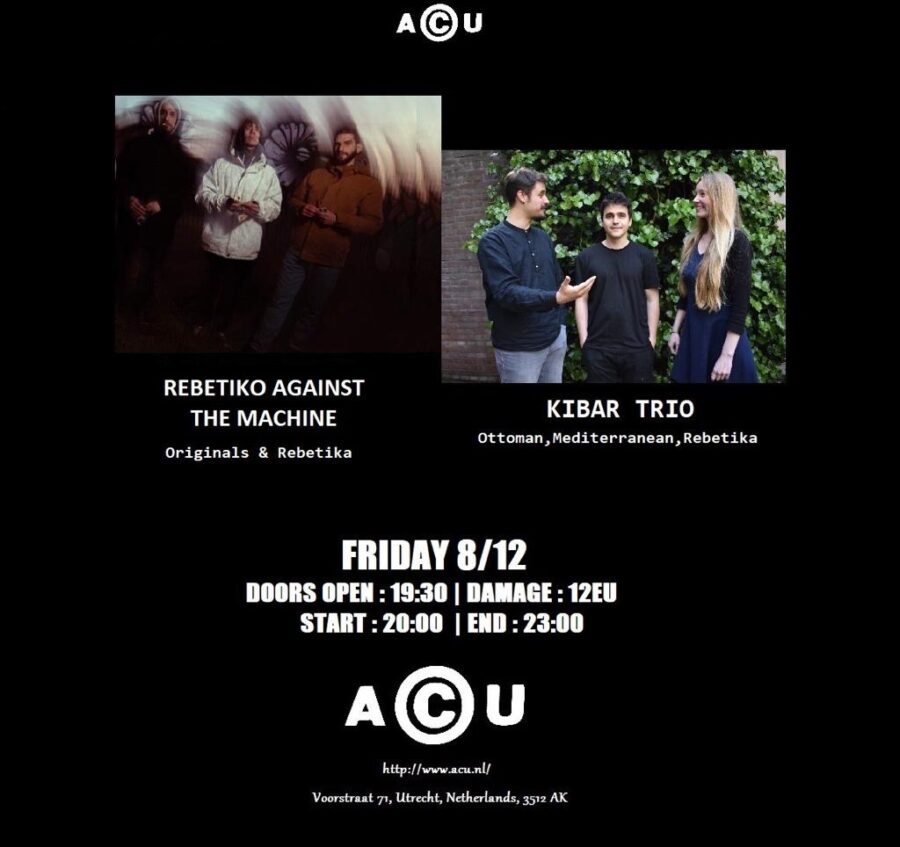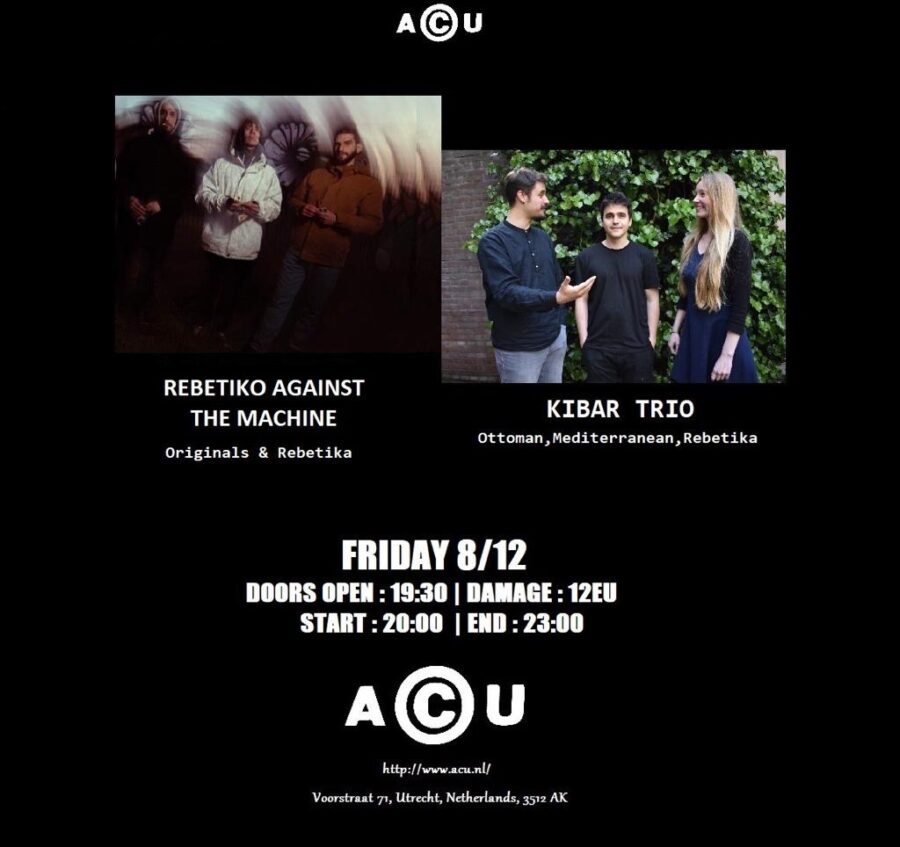 Friday, December 8th
Door:

19:30

Start:

20:00

Entry:

€ 12
Dear Friends,
On Friday 8th of December at 19:30, ACU will open its doors for you and 3 hours of original and traditional music will follow!!!
We are happy to announce our collaboration for this event with the amazing Kibar Trio!
It's gonna be a special night with original music and traditional Greek folk music!
---
••• The line up:
• Kibar Trio:
A trio formed in Utrecht in 2023 from three musicians with different backgrounds but very similar interest in traditional Greek and Eastern Mediterranean music. Together they're trying to recreate the sound and feel of the mid and pre-war era urban folk music and Kafe Aman, music from the islands of the Aegean and even Classical Ottoman compositions!
Kibar Trio is:
Stelios Ladopoulos : Oud / Bouzouki / Vocals
Vasilis Papadopoulos : Guitar / Vocals
Elianne van Ee : Accordion / Vocals
---
• Rebetiko Against The Machine:
Rebetiko Against The Machine, a Greek folk trio formed in Utrecht, combines diverse musical backgrounds.
United by a passion for Rebetiko and traditional music, the three members met during their studies at Utrechts Conservatory around 2018.
Over the past two years, they've been actively performing across the Netherlands and engaging in collaborative projects with various artists.
At the moment the band is dedicated to evolving their repertoire, infusing Rebetiko influences with a rock sensibility, all within the intimate embrace of acoustic folk instruments.
Their traditional repertoire is rooted in a pivotal era for Rebetiko, spanning 1930 to 1950, a period marked by the hardships of two World Wars, profoundly impacting the working class.
Today, they strive to uphold these intimate and historical elements of Rebetiko while infusing their own unique experiences and perspectives into their original compositions.
They're also committed to preserving traditional Rebetiko songs and sharing them with audiences.
We are :
Guitar/Vocals:Ilias Konstantinidis
Bouzouki/Vocals:Giannis Leloudas
Baglama/Bouzouki/Vocals :Argiris Papadimitriou
---
Doors open: 19:30
Music starts: 20:00
Entrance: 12 euros ( please bring cash for the door!)
---
Opening hours
Mon
Closed
Tue
20:00 – 00:00
Wed
19:00 – 23:00
Thu
Check agenda
Fri
20:00 – 03:00
Sat
20:00 – 03:00
Sun
18:00 – 23:00
ACU = CASH PLEASE
Hit the ATM in time, because we prefer cash payments.